"So I called up the Captain: 'Please bring me my wine,
He said, "we haven't had that spirit here since nineteen sixty-nine"
On 5th November, during Hong Kong Charity Ball, Sandro Bottega awarded Don Felder, guitarist of the mythical Eagles, with a special Jeroboam Gold personalized with the words "Bottega for Don Felder" and an image of the musician.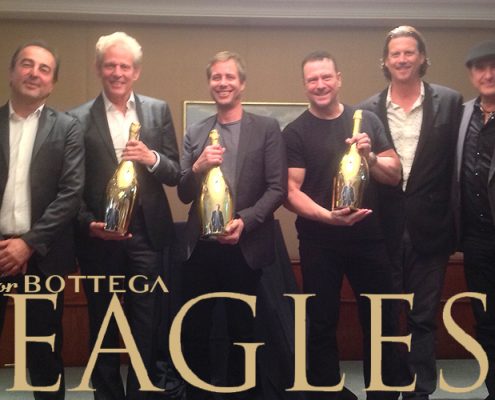 An identical bottle was auctioned as a collector's item during the charity event. At its 15th edition, Charity Ball is a prestigious event organized by Hong Kong Rugby Union and Po Leung Kuk. It took place inside Hong Kong Convention Center in Wanchai district and involved sponsors with great international visibility. In the name of vintage music and of the slogan "Rock for Charity", over the last years it hosted extremely famous musicians like The Jacksons and Tears for Fears.
Bottega participated with a selection of wines, grappa and liquors. Participants to the gala dinner tasted the company's products. The revenue from the event was entirely devolved to Po Leung Kuk, a charity committed to supporting programs for children and families in need in Hong Kong.
Click here for a profile on Bottega