RUNNING DUCK RANGE GAINING POPULARITY WORLDWIDE
Stellar Winery loves their Indian Runner ducks so much they named a range after them!
Ducks play a big part in Stellar Winery's organic farming methods, and they owe so much to them that they named a whole range after them! Since the Running Duck range reached the shelves for the first time in 2013, it has gained huge popularity around the world. It was first shipped to the UK and now this fun-loving range is distributed all over South Africa and Europe and as of this year USA wine lovers will also have the opportunity to add this well-loved range to their fridge!
Using ducks in organic farming
Stellar Winery's popular Running Duck range is named after the Indian Runner ducks that roam the vineyards, eating snails and other threats to the vines. Stellar has about 250 ducks with a few additional ducks that provide entertainment and a natural atmosphere at the cellar. The Indian Runner duck is used as natural pest control and allows Stellar Winery to steer clear of pesticides and other harmful chemicals. These highly effective pest-controllers are living proof that nature really does have all the answers.
"Stellar Winery came to the decision to use Indian Runner ducks in their organic farming method because they have an affinity for snails, so we decided to let them into our vineyards to help with pest control," explains Klaas Coetzee, head winemaker, production manager and general arbiter of quality at Stellar Winery.
Stellar Winery's vineyard process and approach differs from other more conventional wine farms. The producers are only allowed to use compost, phosphorus and potassium fertilizer that originates from rocks. According to Klaas, the team is not allowed to spray any chemical pesticides and herbicides which are prohibited by the EU certification body, Ecocert. Stellar Winery also had to get creative with pest control, which is why they use Indian Runner ducks in the vineyards to take care of snails. Organic farming is also more sustainable because it creates an ecosystem in the vineyard which is self-sufficient and self-regulating.
"Organic wine is not only healthier for your body, it is also better for the environment, because we use organic, responsible farming methods as opposed to conventional or outdated ones," Klaas explains.
All Stellar Winery's wines are vegan friendly, gluten free, certified as Fair for Life and made from organic grapes grown under the beautiful African sky. Stellar's philosophy is based on the health and well-being of the soil, vineyards and the people who tend to them.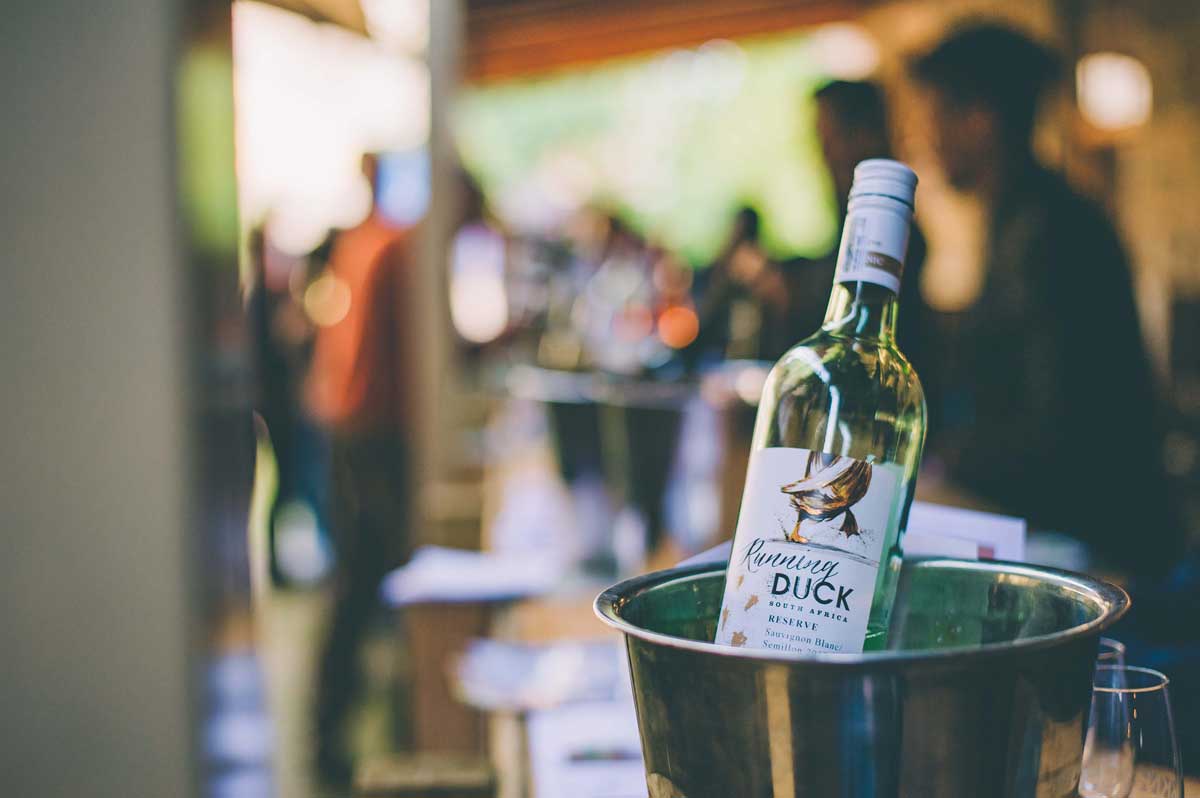 The Running Duck Packaging
To emphasise the fact that they are an organic winery, Stellar Winery used earthy and neutral
colours for the labels and packaging of the Running Duck range. Indian Runner ducks come in various shades and colours, but according to Celeste Smal, head of marketing and branding at Stellar Winery, they chose the brown and beige colour combinations for the packaging.
"Instead of placing the whole duck on the label, we focused on the feet. This, together with the bit of mud splatter, is to emphasise the fact that these are Indian Runner ducks," Celeste explains.
Stellar Winery used a high build on the brand name, just to make it stand out more than the rest of the information, and to add some more texture to the label.
"The copper foil on our labels is used throughout our branding, and in this case it is used to tie the Running Duck range to our other brands. The bit of bling also reminds one of the stars, referenced in 'Stellar'," Celeste explains.
Running Duck range and the market
The Running Duck range has a big following in the UK, and the success will now spill over to the USA, where the Running Duck No Sulphur Added range is a new addition. According to Susannah Taylor, marketing manager at Ehrmanns, distributors for Stellar Winery in the UK, the Running Duck range really resonates with consumers in the UK, and millennials in particular, who are increasingly making ethically-minded purchase decisions.
"The Running Ducks on the label are not only adorable and eye-catching, their work gobbling up harmful vineyard pests highlights how Stellar Winery is the real deal when it comes to environmentally responsible winemaking," says Susannah.
The Running Duck range is so well-loved in the UK, they even started The Running Duck Club! Their aim is to spread the word about Running Duck wines and where you can find them. The range can be bought in local pubs and restaurants as well as through a network of independent wine merchants.
The range also offers 'No Added Sulphur' options which are ideal for those who suffer from allergies or prefer wine with fewer additives.
"With the Running Duck range, we always strive to create a slightly more sophisticated wine with good complexity and structure. We always want to keep the quality and style consistent," says Klaas and adds that they started out with the single varieties in the range, later adding the Running Duck Reserve. In the UK, they also have the exclusive Running Duck Reserve Malbec with its special label.
Awards and popularity
The Running Duck range has also received awards over the years, locally as well as internationally. These awards include a gold award at the 2017 Veritas awards for the Running Duck Reserve Sauvignon Blanc/Semillon, gold at the 2017 Gold Wine Awards for the Running Duck Reserve Cabernet Sauvignon/Pinotage and the organic trophy at the 2016 Michelangelo international wine and spirits awards for the Running Duck Reserve Sauvignon Blanc/Semillon.
Defining Wine in the UK described the 2016 Running Duck No Sulphur Added Cabernet Sauvignon as an "absolute gem". They wrote: "It is a delicious, easy drinking wine, which has shot right to the top of our list of favourites. Plus, it's organic, fairly traded and suitable for vegans, what's not to love?"
And the market sure do love those little duck feet on the label! Joey Evans has a special memory linked to the Running Duck Shiraz, because that is the wine he shared with his partner on their first date and according to him it made their date truly memorable.
"The Running Duck Shiraz is the finest wine I've ever had the pleasure of drinking. Stellar Winery has an astounding product and I wish them the best success so that their business can continue to grow and produce (in my eyes) a truly world class wine," says Joey.
Pineapple Mojito Sangria With Running Duck Sauvignon Blanc
We all like to relax with an ice cold glass of Running Duck Sauvignon Blanc, but sometimes you need to mix things up a bit! This refreshing pineapple mojito sangria with Running Duck Sauvignon Blanc and Fitch & Leedes lemonade is perfect for a warm summer's day, whether you are relaxing next to the pool, hosting a dinner party or just spending the day with friends. This recipe will really impress your guests and is very easy to make! It combines the playful aspects of a warm South African summer with the Sauvignon Blanc's undertones of tropical fruits. But beware, if you make it once they will ask you to make it again and again! It might just become your new signature drink. Enjoy!
INGREDIENTS:
2 lemons, thinly sliced.
Crushed ice.
Peppermint leaves, stripped (about 30 peppermint leaves).
1/3 cup granulated sugar.
1 small fresh pineapple, peeled, cored, and cut into 1 to 2-inch chunks (about 2 cups diced).
750 ml bottle Running Duck Sauvignon Blanc.
1/2 cup white rum.
3/4 cup pineapple juice.
3 x 200ml Fitch & Leedes lemonade.
Additional peppermint leaves and pineapple wedges for garnish.
DIRECTIONS:
In a heavy pitcher that allows for more than 2 litres of fluid, muddle together the lemon slices, peppermint leaves and sugar. You can use a muddler made specifically for the purpose, or a sturdy wooden spoon will work just as well!
Add the pineapple chunks, then pour the wine, rum, and pineapple juice over the top and mix.
Cover and place in the refrigerator for 4 to 5 hours or add some crushed ice if your guests are already on their way!